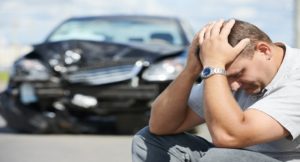 Nothing can be more shocking after a crash than to hear the other drive who caused the accident accusing you of being at-fault. It can be infuriating in the heat of the moment when adrenaline is already rushing through your body. It's important to stay calm and not engage in any back and forth or in any actions that could result in an altercation.
First, look around and try to identify any independent witnesses to the crash. This could be people sitting in cars beside or behind you or people standing on the side of the road. Ask to use their phones to call a loved one and also call your phone so you can lock in their number. Take down their name, number, email, place of employment and if they are willing, take a short video on your phone of the witness stating what they saw and where they were when they saw it.
Second, call the police so that an appropriate investigation can be done and report can be made.
Third, look around for video cameras. Are you in front of a bank or gas station? Make a note to share this information with your attorney as soon as possible so that the appropriate actions to gather that evidence can be taken.
Fourth, take photos of everything – your car, their car, the intersection, any people standing around, the license plates of cars whose drivers may have witnessed the crash and of course, your injuries.
Finally, do not give any statement to any insurance company – even your own – until you have had the chance to speak with an experienced personal injury attorney. Retaining an experienced personal injury attorney as soon as possible will allow the attorney to gather evidence, locate and secure witnesses and alleviate some of the burden from the insurance companies contacting you directly.
[/column]